9. The Professor Pankov

'

s Glasses Device for Quantum Bioresonance Therapy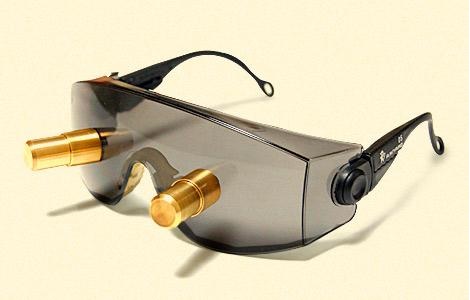 Specifications
Radiation wavelength: 470

–

850 nm.

Radiation power: no more than 1.0 mW.

Pulse-periodic radiation mode.

Pulse frequency range: 1

–

5 Hz.

Number of built-in radiating elements that operate at wavelengths in the range of 470

–

850 nm: from 2 to 8 pcs.

Laser radiation hazard: Class 1 in accordance with State Standard of R50723-94, no personal protective means required.
The Professor Pankov's Glasses device is an ophthalmologic apparatus used for quantum bioresonance therapy. The technique developed by Professor Oleg P. Pankov makes it possible to employ this apparatus to perform quantum therapy of organs of sight. It can be performed both under outpatient and inpatient conditions at ophthalmologic and oncologic hospital departments. In the latter case, quantum therapy can be combined with photodynamic therapy. The therapeutic effect of the apparatus is based on the chain of photochemical reactions in the retina. These reactions activate vascular and lymphatic systems. The apparatus is made in accordance with Specification Requirements of 9442-017-05841879-97. It has been approved for clinical use.
The apparatus is a portable, small-in-size device. A complete set of the apparatus contains specific glasses and a flexible cable that connects the radiating elements mounted in the glasses' frame with the electronic control and power supply unit. The quantum therapy of organs of sight is performed at wavelengths from 470 to 850 nm.
Mechanism of Action


The therapeutic effect is achieved at the level of intercellular liquid and lymphatic system. Quantum radiation is effective not only for organs of sight, but also for internal organs (such as the myocardium, liver, kidneys, skin, gastrointestinal tract, and bronchopulmonary system). The quantum therapy accelerates the lymphatic drainage of these organs by 40 percent.


Application


Ophthalmology
Astigmatism, myopia, glaucoma, cataract (at the initial phase), retinal degeneration, optic atrophy, amblyopia, and inflammatory diseases.
Irido-Reflex Therapy
Chronic noninfectious diseases of the heart, lungs, liver, kidneys, and neurological diseases (rehabilitation after strokes).
Oncology
Rehabilitation after photodynamic therapy sessions.