4. The RadaGel Chlorin-Series Photosensitizer for External Use
Pharmaceutical Form and Package
RadaGel is a 0.10 % dark-green polymer gel of Radachlorin for external use. RadaGel comes in 25-g vials with instruction enclosed. Each vial contains 25 ml of RadaGel. In turn, 25 ml of gel contains 25 mg (1.0 mg/ml) of active agent of Radachlorin in the form of sodium salt of chlorin e6.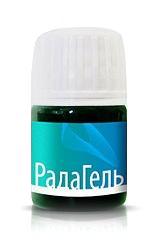 Indications
RadaGel is used at photodynamic therapy (PDT) to treat the following diseases: basal-cell skin cancer, squamous-cell skin cancer, and skin keratosis; background diseases and premalignant lesions of uterine cervix, vagina, and vulva; purulent wounds, persistent wounds, and trophic ulcers; arthroses and arthritises; chronic rhinitises and rhinosinusopathies; periodontosis; acne vulgaris; psoriasis and dermatosis; and also in ophthalmology and cosmetology (photodynamic facial rejuvenation).
Contraindications
High sensitivity to the medicine.
Method of Administration and Dosage
RadaGel is applied externally in the form of application on the skin or mucosa at a dose of 1 ml of gel per 5 cm2 of the exposed surface 20 – 30 minutes before light exposure. 20 – 30 minutes later, the applied gel is removed by a distilled water-wet cotton pad, and light exposure with a wavelength of 661 – 662 nm is performed at a dose of 200 – 500 J/cm2 and at a radiation power density of 200 – 300 mW/cm2. The light dose and the radiation power are set depending on the localization, size, and nosological nature of a tissue lesion area.
Storage Conditions
RadaGel should be stored at a temperature from 0 to +8°C in a dark place.
Shelf Life
24 months (2 years) from manufacture date printed on the package.